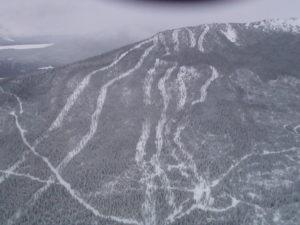 The Crystal Ridge Sled Ski Area is one of a kind! Crystal ridge is open to the public offering 6 semi-cleared runs (2200 vertical feet each) with a designated uptrack for snowmobile travel. The closest relative would be similar to downhill mountain biking, where riders shuttle themselves up and take turns rippin the runs down throughout the day.
Area Access
Crystal Ridge is acccessed via the Westridge staging area located minutes from the town site of Valemount.
To get to the staging area simply travel south of Valemount to the first intersection after the Best Western. Turn right off the hwy and follow the main plowed road approximately 1km until you see a large staging area on the right hand side.
From here, the access trail is approximately 14km long until you begin the 3km uptrack to access the goods
Crystal ride is definately not "extreme" skiing, although the for the adventerous splitboarder or ski tourer the opportunities are endless. The runs are roughly 2km long and will most definately challenge your fitness levels while providing some amazing powder turns. Good, clear communication is key to utilizing this area and all backcountry safety equipment is considered mandatory.
Youth and beginner skiers/boarders are suggested to hone their skills by utilizing the lower drop off points of runs one and two.
For Google Earth files of the access route, runs and important locations please download this FILE, save it to your computer. You will need Google Earth installed on your computer.
PLEASE USE THE DONATION BOX ON THE SIDE OF THE KIOSK IN THE STAGING AREA
IMPORTANT: This facility is in its infant stages and we will be using this season to gauge interest, maintenance requirments and improvements.
There will be no mandatory fees for the area, although users are encouraged to be VARDA members and utilize the donation box attached to the kiosk in the staging area to help us with the area maintenance.
We will be trying to maintain the access route as best we can on a volunteer basis with a snowmobile grooming drag until we are able to acquire the proper sized groomer we need for the job (likely next season).